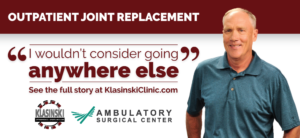 OUTPATIENT JOINT REPLACEMENT AT THE
AMBULATORY SURGICAL CENTER OF STEVENS POINT
The Ambulatory Surgical Center of Stevens Point was our community's first medical facility to provide advanced joint replacements in an outpatient setting. Our surgeons have performed thousands of joint replacements. Over 100 replacements have now been performed at the Ambulatory Surgical Center of Stevens Point. 
Joint replacements for the hip, total knee, partial knee and shoulder are performed here.

Our center delivers surgical care at the highest levels of patient satisfaction and for the lowest cost.  

The Ambulatory Surgical Center of Stevens Point began performing joint replacements in 2010.

We have had successful outcomes and high patient satisfaction: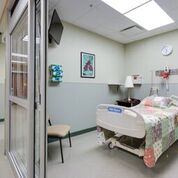 Our patients indicate if they had to have their joint surgery done again, they would choose to have it performed at our surgical center;

Our patients were satisfied with their pain relief after they left the surgical center;

None of our patients had to be transferred to the hospital following their procedure;

Our patients would recommend having this procedure performed in our surgical center to their friends.
We use patient focus groups in order to continually improve our care.
Patients enjoy a comfortable bed, catered meals, a quiet atmosphere, a private room, and importantly, two dedicated highly trained compassionate nurses (RN's) who are present to immediately attend to their needs at all times.
Our Mission is to deliver you
"Skill, Care and Comfort Beyond Your Expectations."
Please contact the Ambulatory Surgical Center (715-345-0500) or the orthopedic surgeons at Stevens Point Orthopedics (715-344-0701) if you are interested in this option.