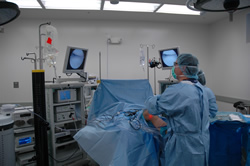 Total knee replacement (arthroplasty) and unicompartmental knee arthroplasty are traditionally considered inpatient surgical procedures. But recent advances in medicine, including minimally invasive techniques, improved pain relief options and expedited rehabilitation has enabled them to be performed on an outpatient basis on select patinets, The Ambulatory Surgical Center of Stevens Point has now begun to perform knee joint replacements on select patients.
A knee joint replacement or knee arthroplasty is a surgical procedure to replace the weight bearing surfaces of the knee joint to relieve the pain and disability of diseases such as osteoarthritis, rheutmatoid arthritis, etc. Knee joint replacement surgery can be performed as a partial or a total replacement. In general, the surgery consists of replacing the diseased or damaged joint surfaces of the knee with metal and plastic components shaped to allow continued motion of the knee.
If you are contemplating having this procedure, feel free to give us a call and we can refer you to the respective surgeon to determine if you are an eligible candidate to have this as an outpatient procedure in our state of the art facility.